I'm going to buy myself some of these
ergonomic rubber pencil grips
. My hand has really been hurting when I draw. All these years of pushing pencils starts wearing on the joints I guess, and I have
arthritis
.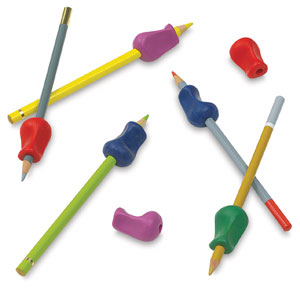 These pencil grips prevent hand fatigue.
I've found that I am able paint for longer periods than I can draw with a pencil. So that told me my problem is the pressure I have to apply.
These pencil grips prevent the fingers from crossing over.
They're good for kids to use too.
I don't give up. The key is to work smarter, and get the tools to be able to do my job better. I think these will help. They are available from Blick Art Supply.
*I make a commission from Blick Art Supply if you buy these grips. They retail for less than $2 each, just so you know I'm not going to be partying in Las Vegas if you buy one or two, but if you use these links to buy your art supplies, it's still appreciated! :)